Industry Interpretation Services
Is your business planning to expand globally? If so, you need industry interpretation services that help to convey your message word to word to another person in their target language.
Why You Should Hire Industry Interpretation Provider Today?
In today's digital age individuals around the world are more than ever before communicating with one another. As these main cities convert into worldwide communities, communication between individuals has turned quite important today. While working in the office or even while living a routine life, it is crucial to have some usual mode of communication. Interpretation is a unique and most effective way to get your thoughts (in the source language) conveyed to the other party (in target language), and when it is performed for specific industries, it is known as industry interpreting.

This allows industries to communicate with foreign business delegates, stakeholders, customers, etc., by paying clear attention to industry terminologies. While several industries can benefit from premium interpretation solutions, there are a couple of industries that basically need this service to make their services or products quite popular amongst their customers. The niche industries that require and can gain profit from certified interpretation services are finance and banking, medicine, information & technology, legal, and travel & tourism.
Types of Industry Interpretation We Offer
Thanks to the internet and expansion of eCommerce technologies, not just large but also small businesses can go international; several cities across the world have turned global communities. Also, this meant that any business looking to enter the new markets would need to communicate in a different language. Since our inception, we have worked for a number of clients, from different industries that require various types of language interpretation  for growing business, attracting business, communicating with foreign stakeholders, etc. Some of the major industries are mentioned as under –
Finance
Textiles
Consumer Durables
Real Estate
Oil and Gas
Hospitality
Technology
Aviation
Insurance
Gems and Jewellery
Tourism
Entertainment
Banking
Automobiles
Media
Agriculture
Education and Training
Retail
Besides the above niche sectors, there are numerous industries today that require accurate interpretation services, which can assist them to go forward in the foreign market. It is considered a catalyst such as if your client speaks another language, then a certified interpreter will pass on your message clearly and accurately to your client in his native language.
Maximize Your Business Growth In Any Industry
Competition in the global business market is so severe that you cannot miss any chance to expand your business overseas or woo the target audience. A prominent way to win the hearts of the target masses is through communication. No matter, which industry your business belongs to, it needs to make the right approach, using the right language and the right industry terminologies. Hence,  appropriately communicate with the target audience through high grade business interpretation.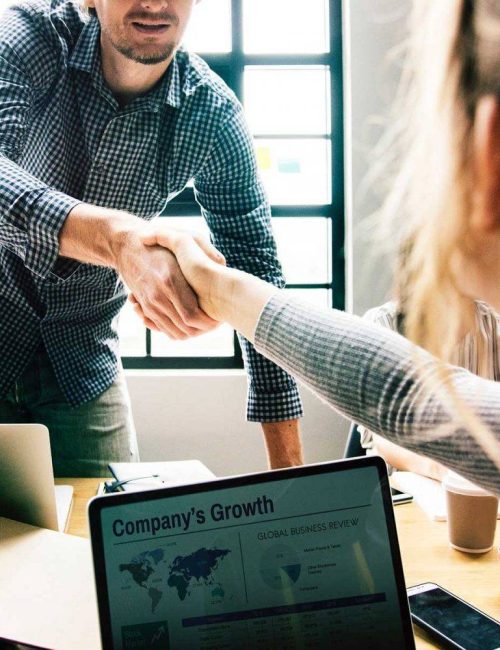 Need Of Industry Interpretation Providers for Your Business Today
Removed one line. Communication between cultures is subsequently crucial as the process of converting whatever is spoken into another language foster globalization. Whether your organization contributes to manufacturing or automation, agriculture, etc you require interpretation that you can use to communicate without hesitation with people belonging to different regions internationally. Tridindia knows your business complexity and the significance of correct interpretation company in Chennai or any other city that backs various languages.
Quality Assurance
Choosing Tridindia will give you assured quality interpretation. We stick to some standards of quality that we uphold in each project we handle, regardless of the industry type.
Professional Interpreters
With a big team of native interpreters, we have the ability to provide an exceptional interpretation that has a professional touch. When you need interpretation at a professional level, we are the best.
Quick and Accurate Interpretation
Our company brings you a fast and accurate interpretation which implies our interpreter will interpret your speech accurately without disturbance.
Secure and Confidential
Security and confidentiality are two important things that we focus on and maintain when you share your business information with us. We never leave room for mistakes.
Industrial organizations are generally international, expanded to multiple countries, regions, and languages. You want interpreters who understand your industry as well as the target language needed for the standard international interpretation of your speech.
We at Tridindia
How Interpretation Provider Can Simplify Your Business Communication?
Regardless of what industry your business belongs to, industrial interpretation services are crucial to every business. It's common for industries to consider interpretation solutions aren't vital, but the reality is, that the world is turning progressively quite diverse. Not just is the world maximizing its diversity, however, industries are developing to fulfill this demand. Not everyone communicates in English, and as a business owner, it should be important to speak with your clients efficiently.
At Tridindia, we hope the advantages we are providing are sufficient to convince you that exceptional interpretation improve your business reach. Tridindia offers excellent service when it comes to satisfying all your Interpretation needs. We always want to assist you to avoid the potential risks as well as mistakes that can happen when you don't utilize a certified and professional industry interpretation solution.
Removed one line. Having a professional interpretation service at your disposal makes sure that while communicating with clients, nothing gets lost in language translation. Removed one line. For more than a decade, we are known to be the world-class 'industry interpreting service provider' that offers actual native interpretation solutions within the right time, quality, and budget, we could be the right one for you.
Professional Team
We are backed by ISO certified and native interpreters with industry specialization. With the help of our interpreter, we will make sure that the interpretation done is accurate.
Fastest Turnaround Time
We offer interpretation equipment on rent & entire setup facility in all parts of India. Our interpreter works faster and ensures that the interpretation will be done with the fastest TAT.
Streamlined Work Procedure
Our entire industry interpretation process is well-streamlined to ensure quality service. We assure to offer complete privacy on everything related to you or your project.
Multiple Languages Covered
Our team is expert at interpreting multiple language pairs, be it Indian or foreign. Regardless of the industry type, our interpreter will interpret every word in different languages.
Years Of Experience
We have vast experience in providing excellent interpretation to every industry. With our proficiency in industry interpretation, you can reach a worldwide audience conveniently.
Discounted Rates
To meet our client's interpretation needs, we will provide this industry interpretation at very affordable rates with some amazing occasional offers that you can't afford to ignore.
Our company pairs you up with subject-matter experts who are skilled and well-experienced in doing interpretation for your industry. Effectiveness and professionalism are what we strive for and when it's a matter of a professional interpretation we only deliver you the best by removing all the common misconceptions about interpreters.
Get in touch
Don't hesitate to contact with us for inquiries!
Escalate your business growth across multiple industries via world-class interpretation from the industry's best professionals.
Easy Project Consultation
Crucial
Interpretation
Facts
In this period of globalization, the demand for industry interpretation is increasing by the day. Be it for international business collaborations or for medical practice, professional interpretation solutions have become the need of the hour.
As per the Department of Labor in the US, by 2024 the industry interpretation solutions are expected to grow by about 29%.
70% of on-demand interpretation services offer a quick response to urgent or emergency situations.
Apart from language and culture gap, industry terminologies become a barrier, when communicating with foreign customers, delegates, etc. Hence, interpretation is very essential and also you should know how language interpreters translate. It ensures that the message is clearly communicated to the other party, keeping the terminologies, style, meaning, and tone intact.
Foster Communication
Encourage effective communication is the major aim of interpretation, and in industries like medical and legal, communication is everything.
Promote & Grow Global
No matter, which industry you belong to, promoting a business on a global scale will always be important, and interpretation definitely helps.
International Fame
Interpretation for industries is also needed to gain international recognition in the market as well as explore new growth horizons.
Tridindia delivers full-fledged interpretation services for local and international clients. So, when you want professional industry interpretation, always count on us.
Our Native
Industry Interpretation
Experts
Target Overseas Market with Power!
The worldwide economy that we live in today essentially couldn't have been conceivable without interpretation nor could organizations have the size and get to there where they are present. Contemporary globalization is an aftereffect of several factors like liberal trade policies, technology, international peace, international peace, increased cultural exchange, and so on.
No matter which industry your business belongs to, communication develops trust which then leads to peace and progress. As every industry has its own terminology, industry interpretation can make communication between two people easier and more understandable.
Indeed, the methods to deliver interpretation have changed with advanced technologies. But the crucial need of interpretation in our society has consistently continued as before. To cut it short, global industries, as well as entities of all sizes including governments all, need industry interpretation services to target overseas markets.
Struggle in Global Business Sales
Some organizations such as WHO have been sharing basic information to advise people on what they need to do. But unfortunately, few people experience hard conditions and do not get access to this information. This is where interpretation comes to the rescue. Compared to translation, successful interpretation strategies are more helpful to speak with people and find out a solution to their problems. It is likewise easier to avoid wrong information at the time an interpretation is delivered as it is easier to identify the mistakes and then rectify them right away. Not just in the medical field, this would be really helpful in the other industries where sales matter.
Case Studies
Our Quality Industry Interpretation
Can Make Various Global Connections
Get the message correctly interpreted in the language your client is familiar with to build numerous connections and turn your business successful globally.
Steps
Just Take Few Simple Steps And Place Your Order
Interpretation is a must to make sure any shared information is conveyed in a manner that every single person in the target audience understands everything. Our experience, as well as knowledge, will help you in the entire journey to spread awareness of your business globally.
Approach us first
If you have any interpretation requirements, kindly get in touch with us soon.
Discuss with professionals
If you want to share information with our professional, book an appointment to meet us.
Place your order
Choose the right interpretation service based on your requirement.
Get Delivery on Time
We will make sure the interpretation will be done faster and accurately.
TridIndia Providing Certified Industry Interpretation Services in:
Ahmedabad NCR Ghaziabad Gurugram Surat Visakhapatnam Dubai Abu Dhabi Ajman Oman Uttar Pradesh Maharashtra Karnataka Tamil Nadu Telangana West Bengal Gujarat Madhya Pradesh Haryana Kerala Bihar Rajasthan Assam Odisha Punjab Andhra Pradesh Jammu and Kashmir Uttara khand Himachal Pradesh Jharkhand Goa Puducherry Manipur Chhattisgarh Meghalaya Andaman and Nicobar Islands United States Philippines United Kingdom Germany Canada China Australia Ukraine Nigeria Malaysia France Bangladesh United Arab Emirates Turkey Pakistan Indonesia Saudi Arabia Kenya Egypt Taiwan Russia Singapore Peru Italy Netherlands Spain Thailand South Africa Palestine Ireland Japan Vietnam Mexico Hong Kong Sri Lanka Nepal Finland Maldives Brazil Czech ia Iran Poland Switzerland South Korea Belgium Myanmar (Burma) Lebanon Uzbekistan Greece Kuwait Ghana Morocco Qatar Sweden Armenia Ethiopia Israel Kazakhstan Romania Tanzania Latvia Denmark Argentina Oman Venezuela Bulgaria Belarus Algeria Moldova Portugal El Salvador Jordan New Zealand Afghanistan Austria Bahrain Costa Rica Hungary Albania Azerbaijan Iraq Slovenia Somalia Tunisia Yemen Colombia Estonia Georgia Norway Serbia Brunei Chile Cameroon Honduras Croatia Jamaica Lithuania Mauritius Sudan Kosovo Bolivia Slovakia Senegal Uganda Bahamas Congo – Kinshasa Côte d'Ivoire Cape Verde Curaçao Ecuador Iceland Luxembourg Montenegro Macedonia (FYROM) Mongolia Malawi Panama Rwanda Syria Turkmenistan Zambia Angola Bosnia & Herzegovina Barbados Burkina Faso Bermuda Bhutan Central African Republic Congo – Brazzaville Cyprus Gabon Guernsey Gambia Guatemala Guam Haiti North Korea Liberia Lesotho Libya Malta Mozambique Sierra Leone Tajikistan Trinidad & Tobago Uruguay Samoa Zimbabwe UAE
Testimonial
With years of experience, we know what your industry needs for growth.
Through our industry knowledge and experience, we execute translation that will definitely profit your business.
"The best thing that I liked about TridIndia is their professionalism & promptness in delivering bulk projects within shorter time frame. Kudos to the team..!!"
"The best thing that I liked about TridIndia is their professionalism & promptness in delivering bulk projects within shorter time frame. Kudos to the team..!!"
"When you are in the technical industry, you know how difficult it is to communicate with your multilingual customers. But, TridIndia made this simple for us."