Language Interpretation Services
If you want to take your business to a great height by making it recognized in the global market, you should know the language widely spoken in the target market. Language connects people. So, for effective communication with the client internationally, hire language interpretation services and go global.
Why You Should Hire Language Interpretation Services Today?
The business world is developing continuously. Businesses are advancing and activating in a varied environment that doesn't regard physical boundaries any longer. Even more, because of accelerated globalization, we now breathe in a world where any form of business has the chance of extending over borders. This made language proficiency a quite crucial business skill that will improve anyone's career. Communication is important for business growth, going from the top of the business hierarchy to its bottom. Each successful organization supports its interdepartmental communication medium to nurture a good working relationship between employees and the employer itself. If at any point communication pauses, this causes blunder of information series in the end stop's company growth. This is where language interpretation comes into the picture.
The term 'language interpretation' refers to interpreting in multiple Indian and foreign languages, along with their respective dialects. Interpretation, as you may know, is the art of orally translating the message of one party to another in the target language. Hence, our language interpreters fulfill the desired task of interpretation in different source and target languages (including sign language), as per client's needs.
Types Of Languages We Interpret
Language build connections. It is of great importance in order to efficiently convey what the business wants to deliver. A particular target market has different cultural groups with various ethnicities living within it. This implies a business has to invest in language interpretation services in order to globalize a specific product. The international business world consists of a diverse range of languages that are widely demanded for facilitating effective communication via quality interpretation.–
Indian Languages
Hindi
Marathi
Punjabi
Tamil
Gujarati
Telugu
Malayalam
see more..
Foreign Languages
Spanish
French
English
Russian
Korean
Japanese
Chinese
see more..
However, there are a plethora of languages across the world. Every country has its own culture as well as various marketing concepts implemented in a different way businesses must know the purchasing behaviors of various customers. Many language speakers must be targeted to get more exposure in various fields. Language interpretation enables more receptiveness, allowing the potential buyers to view that a particular business is all set to go beyond their limits and meet the needs of consumers.
Uncover Exponential Growth Potential For Your Business
Interpretation in different languages is a unique way to grow your business at an accelerating rate. Communication is the major key that helps you woo your target audience. In the absence of clear communication, you will never be able to persuade your customers. Especially in case of international audience, you need to give more attention towards communication in their language. Hence, outsourcing these services to us will be very beneficial for you.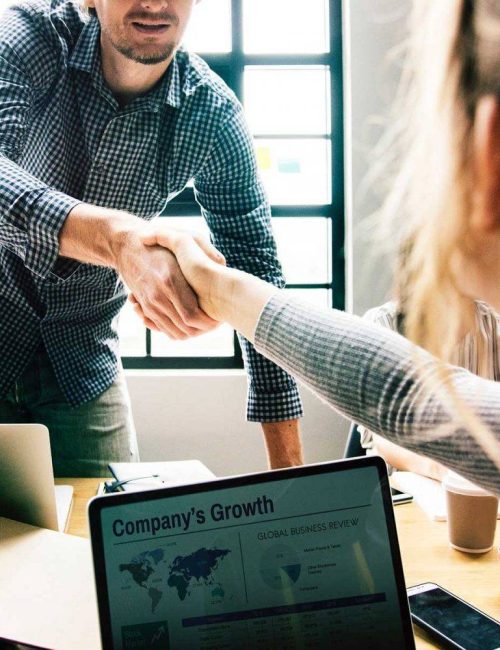 Need of Language Interpretation Services for Your Business Today
If you want to crack the deal with your foreign delegates you are required to interact in a language they understand so that they get to know how partnering with your business will be beneficial for them. In this case, your business requires a strong command of different languages which can be next to impossible. Here it is clear that your business needs language interpretation solutions to build a long-term relationship with foreign clients.
Quick & Accurate Translation
As we have highly skilled interpreters working with us, they handle every project at their best. They make sure that language interpretation should be done quickly and accurately.
Professional Interpreters
We are glad that we work with the best people who are professional interpreters and know how to interpret from one language to another by ensuring it meets the needs of clients.
Quality Assurance
With our proficiency in diversified industries, we bring quality to every project we handle. We make sure that the interpreter interprets the language accurately without making any mistakes.
Secure and Confidential
Besides providing quality language interpretation, we also assure you that your business information will be kept completely secure and confidential with us.
Using the suitable language will enable your business to reach a wider audience and experience exponential growth. Being the best language interpretation service providers, we make sure that the needs of our clients get fulfilled. We gather the knowledge of the language as well as its culture and interpret the language accordingly so that your client could understand what do you want to convey.
We at Tridindia
How Language Interpretation Can Boost Your Business Fame Globally?
All industries need interpreters who are versed in different languages. Even though sometimes actions or symbols may be commonly understood, you still have to convey actual meanings as well as instructions across cultures. It is specifically crucial to overcome language barriers in any industry. That is why the need for language interpretation arises. As far as Tridindia is concerned, we will bring you an interpreter who will communicate to your audience on your behalf and ensure your business gets fame globally. Our interpreter has
Overall, our team of interpreters is ace in their field and holds good knowledge of different industries. They know the terminologies used and convey actual meaning across the world. Our team can surely help your business communicate globally.
Global communication is an important aspect of day-to-day business. Thus, businesses while dealing with foreign or local clients need to understand the other business culture as well as its associated nuances. In the entire language and interpretation industry, our organization stands as one of the most reputed firms that offers highest quality and certified interpretation, along with several outsourcing benefits.
Years of Experience
Tridindia has enormous years of experience in providing exceptional interpretation to diverse clients and always lived up to their expectations by helping them achieve their business goals.
Affordable Rates
Our language interpretation is available at reasonable rates. We will make sure that whichever service you opt for, we will provide you with the best result.
Professional Team
Your project is assigned to certified, experienced and native interpreters. Our team of interpreters is versed in Indian and foreign languages. They also hold good industry knowledge.
Fastest Turnaround Time
Our interpreters strive to get your job done perfectly with the fastest turnaround time without any mistake. Also, we make sure that everything related to your project is kept confidential.
Streamlined Work Procedure
Our interpretation process is quite smooth. For fast interpretation, we provide all types of interpretation equipment on rent and also setup the same.
Multiple Languages Covered
With the help of our dedicated team of interpreters, we can efficiently interpret in all language pairs, Indian to Indian, Indian to foreign and vice versa.
Communication is the key factor that enables the business owner to approach new audiences. Nonetheless, this isn't possible without the help of an experienced language interpreter. Just fill-up the form below and get ready to talk to our expert today!!
Get in touch
Don't hesitate to contact with us for inquiries!
Make your business run on a worldwide scale with high quality interpretation in as many languages spoken in the entire world.
Easy Project Consultation
Crucial
Language Interpretation
Facts
Global communication is straight affected by the globalization process, and assists with expanding business opportunities, eliminating cultural barriers as well as fostering a global village. Here are a few of the language facts that you should know-
Over a half of the worldwide population communicates in 23 languages only.
The selected interpretation languages are French, German, Spanish, and Japanese. English, German, French, Italian and Russian are the most targeted interpretation languages.
As per most professional interpreters, Spanish is the simplest language to interpret.
Business growth on a global scale is a mess, if you don't have access to quality interpretation. It is a major source of sharing your thoughts with your foreign business delegates, stakeholders etc.
Foster Communication
Communication is the most important key to success, and through interpretation, you get to express your thoughts clearly to the other party.
Promote & Grow Global
Business awareness, promotion & growth in a foreign country is easy via interpretation, as it will help you reach out and make the right move.
International Fame
Becoming a global hit is the dream of all. But, not possible for all. Hence, interpretation is used to connect with international stakeholders.
At Tridindia, we offer impeccable language interpretation solutions in which our interpreter can accurately interpret the language you speak into a language your listener will understand.
Lead The Global
Competitive World!
For any international business to achieve success, it needs to reach out to the clients. Otherwise, you are decreasing the possibilities of prosperity. It is these consumers that buy from the businesses, thus converting into benefits and business development. Organizations are presently going to foreign markets in a bid to get more worldwide customers. Globalization has made it feasible for the ventures that need to sell their products overseas to do so. Nonetheless, that comes at a cost. You have to convert speech into a language that the consumers can relate to. Thus, for a business to lead the globally competitive world, you require a language interpreter's help to interpret your speech in a language you want for your clients.
Grow Business Beyond Native Boundaries!
English may not be the only famous language in the world. As the world develops, different languages are starting to rise in importance. Emerging nations are starting to have their place within the worldwide economy as well as their citizens are accessing the Internet and the world around them. In years to come, English may not be the top language in the world economy. This is why you will benefit from language interpretation to stay alive so you will be able to put up every language as a global economy.
Interpretation is imperative for spreading new information, and ideas around the world. It is quite crucial to get the most effective communication between diversified cultures.
Interpretation solutions will assist massively and the utilization of professional interpreter will permit engaging communication and perhaps fill the gap where limited knowledge of either parties language is understandable. Many companies are restricted to go ahead because of language gaps, but with highly-skilled interpreters you can easily explore new markets. Whether you want to conduct a business meeting, or trying to communicate with other businesses, there will always be a need of interpreter.
Get a Free Quote Today
Our Language Expertise
Lets You Speak Like A Local
Be ready to go global via interpreting your message concisely and accurately in infinite languages.
Steps
Take Few Easy Steps for Languages related Order
Contact us first
Reach us easily by calling or mailing us your requirement.
Consult with us
Our experts will give you a few suggestions that can benefit your business.
Place Order
Place your order for the language interpretation based on your project requirement.
Make Payment
Receive the assigned work within a short time through the mail.
TridIndia Providing Certified Language Interpretation Service Providers in:
Ahmedabad NCR Ghaziabad Gurugram Surat Visakhapatnam Dubai Abu Dhabi Ajman Oman Bangalore Chandigarh Chennai Delhi Gurgaon Hyderabad Kolkata Lucknow Mumbai Noida Pune Uttar Pradesh Maharashtra Karnataka Tamil Nadu Telangana West Bengal Gujarat Madhya Pradesh Haryana Kerala Bihar Rajasthan Assam Odisha Punjab Andhra Pradesh Jammu and Kashmir Uttara khand Himachal Pradesh Jharkhand Goa Puducherry Manipur Chhattisgarh Meghalaya Andaman and Nicobar Islands United States Philippines United Kingdom Germany Canada China Australia Ukraine Nigeria Malaysia France Bangladesh United Arab Emirates Turkey Pakistan Indonesia Saudi Arabia Kenya Egypt Taiwan Russia Singapore Peru Italy Netherlands Spain Thailand South Africa Palestine Ireland Japan Vietnam Mexico Hong Kong Sri Lanka Nepal Finland Maldives Brazil Czech ia Iran Poland Switzerland South Korea Belgium Myanmar (Burma) Lebanon Uzbekistan Greece Kuwait Ghana Morocco Qatar Sweden Armenia Ethiopia Israel Kazakhstan Romania Tanzania Latvia Denmark Argentina Oman Venezuela Bulgaria Belarus Algeria Moldova Portugal El Salvador Jordan New Zealand Afghanistan Austria Bahrain Costa Rica Hungary Albania Azerbaijan Iraq Slovenia Somalia Tunisia Yemen Colombia Estonia Georgia Norway Serbia Brunei Chile Cameroon Honduras Croatia Jamaica Lithuania Mauritius Sudan Kosovo Bolivia Slovakia Senegal Uganda Bahamas Congo – Kinshasa Côte d'Ivoire Cape Verde Curaçao Ecuador Iceland Luxembourg Montenegro Macedonia (FYROM) Mongolia Malawi Panama Rwanda Syria Turkmenistan Zambia Angola Bosnia & Herzegovina Barbados Burkina Faso Bermuda Bhutan Central African Republic Congo – Brazzaville Cyprus Gabon Guernsey Gambia Guatemala Guam Haiti North Korea Liberia Lesotho Libya Malta Mozambique Sierra Leone Tajikistan Trinidad & Tobago Uruguay Samoa Zimbabwe UAE
Testimonial
It's always a joy to hear that the work we do, has positively reviews.
With so many positive reviews and encouragements, we get more power to work hard and help more business to expand.
"The best thing that I liked about TridIndia is their professionalism & promptness in delivering bulk projects within shorter time frame. Kudos to the team..!!"
"The best thing that I liked about TridIndia is their professionalism & promptness in delivering bulk projects within shorter time frame. Kudos to the team..!!"
"When you are in the technical industry, you know how difficult it is to communicate with your multilingual customers. But, TridIndia made this simple for us."