Hindi Interpretation Services
Express your thoughts, business ideas and strategies with your Indian clients/customers in a pure Hindi language with the assistance of a professional interpreter to ensure clear communication can happen between you and them.
Why You Should Invest in Hindi Interpretation Today?
When it comes to estimating the number of Hindi speakers in the world, the count has now reached 615 million. It is among the official languages of India and is the key language utilized in the northern states of Rajasthan, Haryana, Delhi, Uttarakhand, Madhya Pradesh, Uttar Pradesh, Chhattisgarh, Jharkhand, Himachal Pradesh, and Bihar, and is spoken widely in the north as well as central India alongside different languages like Punjabi, Marathi, Gujarati, or Bengali. In different parts of India, Bangladesh, Nepal, and Pakistan, Hindi is well understood. In Fiji individuals of Indian origin speak Hindi, and in a few areas, Fijian people also speak it. Companies that are dealing with the clients only in the English language often face difficulty while communicating with Hindi-speaking clients. This mostly happens in the case when multinational companies connect with local vendors who are not fluent in English. In that case, they need someone who can present or explain the ideas of big companies in the Hindi language quite fluently.
Fastest professional Hindi Interpretation services by 600+ certified Hindi Interpreters who offer accurate interpretation services in Hindi for government, public and private sectors. Facilitating effective communication in the business world is very important. None of us can bear the cost of a distorted message, especially when we are dealing with cross-cultural clients. This is why interpretation is a big need that cannot be ignored. Talking about the present day, India is a lucrative market that attracts global giants to expand their business roots and target the Indian audience. This, in turn, calls for Hindi interpretation, which allows smooth flow of thoughts between two or more business parties/ delegates/ stakeholders/ employees and others, who belong to a different language background. So, if you are looking for a reliable source that can help you bridge the Hindi language barrier, you are at the right place.
Affordable Hindi Interpretation Services for Your Business
As per the market understanding, around 60% of the people in urban areas utilize Hindi to get to the online content. Around 80% of individuals in India are non-English speakers as well as 127 million Indians prefer content in the Hindi language. This statistic directly provides us with the idea that the Hindi language will play a crucial role in the present business scenario. Businesses can easily connect with the local vendors when they deal with them or share their strategy in the Hindi language and this will happen only when they opt for the Hindi interpretation.
At Tridindia, we have been providing outstanding Hindi interpretation solutions at affordable rates to several different industries. For the healthcare industry, so that doctors can easily understand the needs of the Hindi-speaking patient, for lawyers to help their clients understand the critical legal language in their easy-to-understand Hindi language and so on. With the support of the native linguists, you can effectively get your complete conversation interpreted from source language to the Hindi language.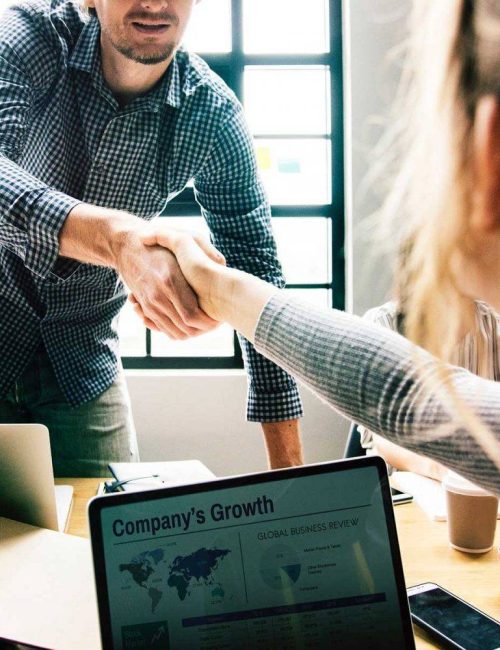 Need of Hindi Interpretation Services For Your Business Today
As per a report, the interpretation industry would grow by 29% by the year 2024, which clearly indicates the growing awareness or need of interpretation among the business giants. Be it about conveying your thoughts, initiating market research, discussing business plans with your employees or reaching out to your customers, interpretation is essential at every single step in the business world.
Foster Communication
Interpreting your thoughts/ messages into or from Hindi is majorly important to facilitate communication. Unless and until you have a language barrier clinging on to you, you can never achieve the desired level of success in the global market.
Spread Brand Awareness
This is the most important concern for every business, as there would be no point in growing your product line or spending huge on marketing unless your audience is aware of your brand. Interpretation at exhibitions, conferences etc., help you spread brand awareness.
International Fame
As the world is getting smaller and closer, the need for communicating in the customer's language has become very important. Interpretation lets you reach out to a specific niche and customers belonging to specific demographics, giving you international fame.
Promote & Grow Global
Business promotion among a non-native audience becomes very easy through interpretation, as it helps you communicate in the target language and persuade them to buy. Eventually, you grow global by winning the heart and trust of the target masses.
To cut it short, interpretation is the only way to sail your boat towards success. Being a businessman, your top priority would be to accomplish your objectives smoothly, and when it is about targeting a non-native audience, interpretation is all that you need.
Types of Hindi Interpretation We offer
The requirement of Hindi interpretation solution is now gaining more focus, as globalization opens up several countries to the rest of the world. Interpreting in varieties of languages like Hindi is important for proper communication as well as understanding. Lots of industries as well as sectors in society keep looking for our outstanding Hindi interpretation solutions. As organizations work with foreign clients as well as partners, and nations welcome Hindi-speaking businesses as well as visitors, Hindi interpreting solutions becoming more important. Here are the industries that highly need our services:
Hindi Legal Interpretation
Hindi Medical Interpretation
Hindi eLearning Interpretation
Hindi Business Interpretation
Hindi Healthcare Interpretation
Hindi Marketing Interpretation
Hindi eCommerce Interpretation
Hindi Oil and Gas Interpretation
Hindi Tourism Interpretation
Hindi Entertainment Interpretation
Hindi Banking & finance Interpretation
Hindi Public schools Interpretation
Hindi government Interpretation
Hindi Insurance Interpretation
Hindi Event production Interpretation
And some more…
In any situation where Hindi interpreting services is needed of the hour, the interpreter must know the clients' needs. Some individuals can just know things in their simplest forms. Others need the know-how of the specialized terminology as per their profession and educational background. No matter what type of industry you are in, it is preferable to work with Tridindia interpretation professionals. It is completely your assurance that you are receiving top-notch linguistic service.
Why Choose Us
Choosing Tridindia to Get Impactful Hindi Interpretation
A multitude of languages, trained professionals, rental equipment and what not; TridIndia offers you everything that you need for a successful interpreting session. This leaves no doubt why we are the ideal source of clear communication (interpretation) for you. Most of our clients prefer us for the following –
Higher Quality & Accuracy Level
Our Hindi interpreters are professional linguists who make sure that the quality and accuracy of the interpretation will not get affected while interpreting.
Comprehensive Language Solutions
We are specialized in offering cost-effective and comprehensive language solutions such that your communication will get interpreted in the Hindi language.
Certified Interpretation
Services
We give certified interpretation solutions in the Hindi language with the assistance of certified interpreters who ensure error-free interpretation.
Native Expert Interpreters
To meet your interpretation needs, we have hired a big network of Hindi interpreters who are fluent and speicialized in the Hindi language.
Easy Project Consultation
We understand interpretation service is a bit difficult to understand that's why we conduct easy project consultation to resolve your queries.
Fastest Turnaround Time
Our native interpreter will understand your requirement and be available to perform the interpretation with faster TAT.
Benefits of Outsourcing Hindi Interpretation Services To Us
Hindi is a diverse language with a huge variety of dialects, as per different regions in the country. Hence, simply interpreting in Hindi is not enough, interpreting in the 'right dialect', is what you need to focus on. At TridIndia, we keep note of this, and make sure that the interpretation delivered to your end is authentic, in terms of quality, dialect, culture and other factors.
Native Interpreters
We are backed by professional native interpreters, who possess sound knowledge of the language as well as the target culture.
Diverse Language Pairs
We deal with endless varieties of language pairs, when it comes to interpreting into/ from Hindi or nay other Indian and foreign language(s).
Faster TAT
We do believe in quality, but we also understand that the work should be completed on time. Hence, we commit for the fastest turnaround time.
Rental Equipment
We not just provide quality interpretation, but also fulfill all your needs for interpretation equipment on rent.
Full Interpretation Support
We help you organize conference (or any other event) in India, with complete interpretation support – setting up equipment, client's travel and food arrangements etc.
Data Privacy
You can stay rest assured when it comes to maintaining the confidentiality of the files. With us, every one of your shared information will be kept secured.
We have got you covered from all ends, in terms of your interpretation needs. Hence, no matter how complex your requirements are, we are here to help. Our team is exceptional in its interpersonal and linguistic skills. This is why we assure the highest degree of accuracy in all types of interpretation. So, if you are ready to expand your business horizons, you are at the right place!!
Get in touch
Don't hesitate to contact us for inquiries!
We provide Hindi interpretation solutions for individuals and corporations in order to bridge language and cultural barriers. Just get in touch with us to tell us your interpretation needs!
Easy Project Consultation
Steps
Take Simple Steps for Hindi Interpretation Order
Years of dedication and persistence has made us the leading provider of Hindi interpretation solutions, as we always strive to provide client satisfaction. To get our services, follow these simple steps:
Contact us first
Connect with one of our experts to share your interpretation requirements.
Consult with Project Manager
Consult with our project manager to get detailed information about Hindi interpretation.
Place Your Order
Tell us your industry type and place your order quickly.
Get Delivery On Time
Our interpreter will interpret for you with faster TAT.
Case Studies
We are dedicated to
serve you all time
Utilizing the skill of effective communication, our team helps your
brand engage with your customers.
Testimonial
With years of experience, we know what your industry needs for growth.
We guarantee the most effective services and correct solutions to your each and every query. Since 2002, we have been serving clients to translate their Ecommerce material in different languages.
"The best thing that I liked about TridIndia is their professionalism & promptness in delivering bulk projects within shorter time frame. Kudos to the team..!!"
"The best thing that I liked about TridIndia is their professionalism & promptness in delivering bulk projects within shorter time frame. Kudos to the team..!!"
"When you are in the technical industry, you know how difficult it is to communicate with your multilingual customers. But, TridIndia made this simple for us."
Funfact
The Unbeatable Hindi Interpretation Master Since 2002
Our top priority is to keep the entire work process productive, so as to keep tandem with the international interpretation quality standards. So, if you are all set to transcend all cultural or linguistic barriers hindering your path, give us a call and we'll handle the rest!!
TridIndia Providing Certified Hindi Interpretation Services in:
Ahmedabad NCR Bangalore Chandigarh Chennai Delhi Gurgaon Hyderabad Kolkata Lucknow Mumbai Noida Pune Ghaziabad Gurugram Surat Visakhapatnam Dubai Abu Dhabi Ajman Oman Uttar Pradesh Maharashtra Karnataka Tamil Nadu Telangana West Bengal Gujarat Madhya Pradesh Haryana Kerala Bihar Rajasthan Assam Odisha Punjab Andhra Pradesh Jammu and Kashmir Uttara khand Himachal Pradesh Jharkhand Goa Puducherry Manipur Chhattisgarh Meghalaya Andaman and Nicobar Islands United States Philippines United Kingdom Germany Canada China Australia Ukraine Nigeria Malaysia France Bangladesh United Arab Emirates Turkey Pakistan Indonesia Saudi Arabia Kenya Egypt Taiwan Russia Singapore Peru Italy Netherlands Spain Thailand South Africa Palestine Ireland Japan Vietnam Mexico Hong Kong Sri Lanka Nepal Finland Maldives Brazil Czech ia Iran Poland Switzerland South Korea Belgium Myanmar (Burma) Lebanon Uzbekistan Greece Kuwait Ghana Morocco Qatar Sweden Armenia Ethiopia Israel Kazakhstan Romania Tanzania Latvia Denmark Argentina Oman Venezuela Bulgaria Belarus Algeria Moldova Portugal El Salvador Jordan New Zealand Afghanistan Austria Bahrain Costa Rica Hungary Albania Azerbaijan Iraq Slovenia Somalia Tunisia Yemen Colombia Estonia Georgia Norway Serbia Brunei Chile Cameroon Honduras Croatia Jamaica Lithuania Mauritius Sudan Kosovo Bolivia Slovakia Senegal Uganda Bahamas Congo – Kinshasa Côte d'Ivoire Cape Verde Curaçao Ecuador Iceland Luxembourg Montenegro Macedonia (FYROM) Mongolia Malawi Panama Rwanda Syria Turkmenistan Zambia Angola Bosnia & Herzegovina Barbados Burkina Faso Bermuda Bhutan Central African Republic Congo – Brazzaville Cyprus Gabon Guernsey Gambia Guatemala Guam Haiti North Korea Liberia Lesotho Libya Malta Mozambique Sierra Leone Tajikistan Trinidad & Tobago Uruguay Samoa Zimbabwe UAE