Audio Transcription Services
Finding a way to save the audios of meetings, conferences, etc. for further use? Invest in Audio Transcription Services and turn audios into searchable and shareable content in a target language.
Why You Should Invest in Audio Transcription Today?
For many years, businesses have depended completely on audio recordings to document their content. But with time, proper transcription has demonstrated its benefits wherever content is produced as it enables the business to spread the word globally to reach a wider audience. It is crucial money and time saving service for almost every organization where content is created. Transcription is extremely accurate and assists in streamlining. Audio transcription not only makes it convenient for viewers to access content, but also deducts all the confusion caused because of regional dialect, background noise, audible distractions, or breaks in speech.
In layman's terms, audio transcription refers to speech-to-text conversion, wherein everything, which is recorded in an audio format, is converted into text format. This makes it easier for businesses to keep a record of what has been communicated during interviews, focus group sessions, meetings etc. Apart from simply keeping a record, transcription is also necessary at times, when you do not get things clear the first time. No matter, whether you are attending a conference, meeting or seminar, it is not always essential that you understand each and every aspect that has been discussed on board. In such cases, audio transcripts play a major role, as they help you go through the entire communication once again.
Affordable Audio Transcription Services for Your Business
Whether you are creating a video series, hosting delegates in your meetings, concluding business events & seminars, broadcasting a news program, or running a radio talk show, our audio transcription professional can easily transcribe your audio content into written format at any time. These affordable services like consistent business transcription offered by Tridinidia can be tailored based on your requirements. Our work does not just end with transcribing it, we also take care that the transcripts should be 99% accurate and error-free which makes them easy to read for the viewers. We ensure that it should be the same as the original, complete and correct to prevent your brand from getting tarnished.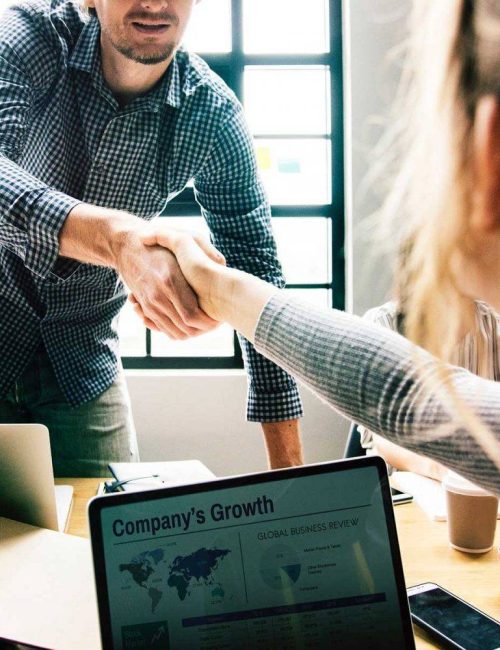 Need of Audio Transcription Services for Your Business Today
If your enterprise is not leveraging audio transcription, then you are unquestionably missing out on a few benefits. So, here are a couple of the reasons that indicate that every type of business needs an audio transcription service.
Boost Sales
When you transcribe product description audio content, the search engines receive extra content to crawl. Once your content gets crawled, it reaches to the maximum audience, so that more people engage, and more sales happen.
Access to Global Market
A company might have operations in different countries, and not every country speaks a similar language. Transcribing the audio recording of the meeting in audience's native language could be the simplest way to ensure understanding.
Boost ROI
Audio transcription is a highly effective tool that can be utilized to boost your ROI. How? You can simply ensure amplified ROI for your campaigning efforts with the help of professional and accurate transcription services.
A Global Hit
There are several people who love reading over listening. So, in case, you have created a podcast on motivation or any other theme and you want more audience to engage and make it a hit, simply transcribe audio into text.
No matter if you are running a small or large organization, there is a major need of transcription for having your content reach out to your potential customers, employees and shareholders.
Types of Languages in Audio Transcription We Offer
By transcribing your audios into more than one language, you can reach a bunch of new audiences other than the existing ones. That's why we offer
actual cheap transcription services
 in various languages. Some of them are:
Punjabi Audio Transcription
Hindi Audio Transcription
Urdu Audio Transcription
Bengali Audio Transcription
Tamil Audio Transcription
Telugu Audio Transcription
Malayalam Audio Transcription
Gujarati Audio Transcription
Russian Audio Transcription
Spanish Audio Transcription
French Audio Transcription
German Audio Transcription
Japanese Audio Transcription
Arabic Audio Transcription
Chinese Audio Transcription
Dutch Audio Transcription
And many more..
According to your needs and target audience, you need to choose the language that best fits it. A correct pick will give you the needed support for global expansion.
We at Tridindia
Professional Audio Transcription to Distribute Information
In this technologically advanced era, the content is not just limited to a single platform to help the business grow and get access to a global market. Podcasts, talk shows or any content in the audio form can be made accessible to a wider audience by converting it into a text form. Many people prefer reading stories instead of listening to them, so you can understand the importance of content that is more readable. To conclude, if you want to distribute your information in text form, consider availing of our valuable voice to text transcription. We offer unmatched service to ensure 99% accuracy with the fastest turnaround.
Types of Audio Transcription We Offer
We aim toward the complete satisfaction of clients. This is why we offer transcription for all types of audios, (such as the following) in all types of formats, related to all types of industries. In simple words, we have covered various types of transcription needs, under one umbrella.
Radio Show Transcription
Lecture Transcription
Oral History Transcription
Voice Transcription
Podcast Transcription
MP3 Transcription
Voicemail Transcription
and more..
We have successfully worked on thousands of transcripts of varying duration. Hence, you can rest assured that our team holds expertise in handling all sorts of bulk transcription including credible language transcription with great ease. Also, we make sure that the quality standards are met with full satisfaction.
Benefits of Outsourcing Audio Transcription Services to Us
In this global business world, outsourcing services in popular languages in demand for transcription has become the most essential need of modern entrepreneurs. Hence, if you outsource the services to us, you can be ascertained that the services delivered to your end would be highly satisfactory and that the text would be a clear rendition of the original file, i.e. the audio file. Here are some of the major benefits of associating with us –
Faster TAT
We take some time based on the audio quality, with an extra hour for proofreading to deliver the transcripts with the fastest turnaround time.
Culturally Relevant
With accuracy, we also make sure that the transcribed content should be culturally relevant to help the audience relate and engage with it.
Data Privacy
We understand your requirement for confidentiality and data security. Our team also signs Non-Disclosure/Confidentiality Agreements.
Native Transcribers
While transcribing the audio, we make sure that the project is handled by native professionals, who can directly transcribe the audio in any language.
Years Of Experience
With many years of experience in the field of transcription, Tridindia has always delivered the best services with qualified transcriptionists.
Quality Control Systems
We always strive to achieve the quality benchmark set that our client sets. Our transcription team includes experienced audio transcriptionists.
We have been delivering our services to this industry for many years, and we comprehend what quality means to you. If your transcript has even a single mistake, it can cause huge losses for your business. This is the reason you should choose us to get error-free transcripts and crucial benefits of transcription company.
Get in touch
Don't hesitate to contact with us for inquiries!
With our several years of experience and deep understanding of audio transcriptions, we are the partner of leading companies across diverse industries. Contact us if you have a project that wants our services.
Easy Project Consultation
Your Trusted
Audio Transcription
Agency Online
Tridindia is the trusted Audio Transcription Company that produces high-quality text versions of recorded audio files. Our company is not similar to an agency. An agency may collect orders from various sources and on a commission basis, it gives the orders to varied companies. However, we are an audio transcription agency that generates different types of transcription like effective focus group transcription with the help of our talented transcriptionists. They are well-qualified and experienced. Therefore, every audio file we transcript undergoes stringent quality checks. We assure you that our transcripts are professional.
As an audio transcription agency, we are committed to providing an excellent audio transcription service. Our service charges are quite affordable in the industry as well as you will pay just for the service you requested. Our audio transcription is highly recommended because it is:
99% Accurate
Concise & Relevant
Similar to the Original Content
Our audio transcription solutions are available for research interviews, business meetings, conference calls, promotional materials, investor meetings, training sessions, documentary webinars, interviews, etc. So, if you are finding someone to offer you professional transcripts including top notch podcast transcription, you can count on us.
Our Experts
Native Audio
Transcribers
Potential of Audio Transcribers
Audio transcription solutions are not only a typing service. Not every type of writer can do the task of audio transcription. Audio transcription needs hours of concentration, good ears to listen and understand and most importantly, it needs complete attention to the details. We follow a stringent recruitment process that only hires experienced audio transcriptionists. So, you can have faith in us that your project will be in safe hands and you will surely receive quality work. With us, you will get to know the real significance of transcription service.
Besides transcribers, we also have a team of talented quality assurance experts who ensures that there are no errors or gaps in the transcription.
Additional Flexibility
Regardless of your audio content scope, our expert team of audio transcriptionist is constantly geared up to help you transcribe interview audio to text for business. They can even adjust their operations depending upon their specific needs. If you handle your solo radio show or manage a large business event and want tailored audio transcription solutions, then Tridindia is the best alternative for you.
Why wait for your staff members to transcribe your audio files, when you can rely on Tridindia to do the job for you, using all the skillsets that they own at their disposal?
Get in Touch With Us
We are dedicated to
serve you all time
Let's deliver a comprehensive suite of speech-to-text products to you that can be
utilized in a plethora of languages and bridge the gap between you and your audience.
Why Choose Us
Choosing Tridindia to Get Unmatched Audio Transcription
Your choice of the vendor is directly proportional to the quality of the transcription. This is why we are here at your rescue to provide you expert transcription help. With more than 15 years of experience in the language domain, we can provide a quality-oriented results to global clients.
Higher Quality & Accuracy Level
We assure you that the transcripts delivered to you would be high-quality and accurate. We follow a quick quality procedure to make content error-free and engaging.
Comprehensive Language Solutions
If you want an audio file transcribed into some other language, we provide you with comprehensive language solutions. We have a talented team of language experts who are proficient in speaking different languages.
Certified
Transcription
We offer the certified transcription solutions to ensure that the transcript content should be relevant to the topic and the words used are correct.
Native Expert
Transcribers
We have a strong team of native transcribers who are capable of handling every type of transcription assessment. Also, they that transcripts should match the level of quality standards and satisfy the client.
Easy Project
Consultation
To resolve the queries of clients, we conduct a quick project consultation. Also, this helps us to understand the clients needs.
Fastest Turnaround
Time
Clients love to get work on time and we like to deliver it within the deadlines. We follow a systematic approach which includes listening to transcribing and proofreading the transcript.
Realfact
The Unbeatable Audio Transcription Master Since 2002
We offer a cost-effective audio transcription solution covering a wide spectrum of subject matter as well as recordings from several different settings. We hire the finest "ears" in the industry that have a flair for multiple languages.
Native Expert Transcribers
Steps
Follow Simple Steps for Ordering Audio Transcription
Since its inception, Tridindia has completed several audio transcription projects for our clients. If you need outstanding work in your budget that can contribute to the growth of your business, we are ready to serve you the best with productive transcription strategies. Follow these steps to avail our services:
Contact us first
If you want to know about service, contact us and mail us your project requirements.
Consult with Project Manager
Once contacted, you can visit our office and meet our project manager to discuss your project.
Place Your Order
If you like our previous work and want us to work for you, then order our service.
Get Delivery On Time
After the final step of proofreading the transcript, we will deliver your work before the deadline.
FAQ
Frequently Asked Questions on Audio Transcription
Transcription Useful Resources
TridIndia Providing Certified Audio Transcription Services in:
Ahmedabad NCR Bangalore Chandigarh Chennai Delhi Gurgaon Hyderabad Kolkata Lucknow Mumbai Noida Pune Ghaziabad Gurugram Surat Visakhapatnam Dubai Abu Dhabi Ajman Oman Uttar Pradesh Maharashtra Karnataka Tamil Nadu Telangana West Bengal Gujarat Madhya Pradesh Haryana Kerala Bihar Rajasthan Assam Odisha Punjab Andhra Pradesh Jammu and Kashmir Uttara khand Himachal Pradesh Jharkhand Goa Puducherry Manipur Chhattisgarh Meghalaya Andaman and Nicobar Islands United States Philippines United Kingdom Germany Canada China Australia Ukraine Nigeria Malaysia France Bangladesh United Arab Emirates Turkey Pakistan Indonesia Saudi Arabia Kenya Egypt Taiwan Russia Singapore Peru Italy Netherlands Spain Thailand South Africa Palestine Ireland Japan Vietnam Mexico Hong Kong Sri Lanka Nepal Finland Maldives Brazil Czech ia Iran Poland Switzerland South Korea Belgium Myanmar (Burma) Lebanon Uzbekistan Greece Kuwait Ghana Morocco Qatar Sweden Armenia Ethiopia Israel Kazakhstan Romania Tanzania Latvia Denmark Argentina Oman Venezuela Bulgaria Belarus Algeria Moldova Portugal El Salvador Jordan New Zealand Afghanistan Austria Bahrain Costa Rica Hungary Albania Azerbaijan Iraq Slovenia Somalia Tunisia Yemen Colombia Estonia Georgia Norway Serbia Brunei Chile Cameroon Honduras Croatia Jamaica Lithuania Mauritius Sudan Kosovo Bolivia Slovakia Senegal Uganda Bahamas Congo – Kinshasa Côte d'Ivoire Cape Verde Curaçao Ecuador Iceland Luxembourg Montenegro Macedonia (FYROM) Mongolia Malawi Panama Rwanda Syria Turkmenistan Zambia Angola Bosnia & Herzegovina Barbados Burkina Faso Bermuda Bhutan Central African Republic Congo – Brazzaville Cyprus Gabon Guernsey Gambia Guatemala Guam Haiti North Korea Liberia Lesotho Libya Malta Mozambique Sierra Leone Tajikistan Trinidad & Tobago Uruguay Samoa Zimbabwe UAE
Testimonial
With years of experience, we know what your industry needs for growth.
Through our industry knowledge and experience, we execute translation that will definitely profit your business.
"The best thing that I liked about TridIndia is their professionalism & promptness in delivering bulk projects within shorter time frame. Kudos to the team..!!"
"The best thing that I liked about TridIndia is their professionalism & promptness in delivering bulk projects within shorter time frame. Kudos to the team..!!"
"When you are in the technical industry, you know how difficult it is to communicate with your multilingual customers. But, TridIndia made this simple for us."