Medical Transcription Services
Are you running a medical clinic and need some help in keeping a record of the patient's medical history? If yes, then medical transcription services act as a reference for doctors and lay the foundation for future patient visits.
Why You Should Invest in Medical Transcription Today?
Several healthcare providers end up investing hours at the end of the day daily transcribing their notes, or they employ a well-trained in-office medical assistant to assist, and still discover that at times the records are taking a lot of time. They're quite expensive to even consider doing now, or errors are showing up as they are employing untrained people. With correct transcription, medical practitioners can use the right medical documentation and ensure there are no costly errors. Further, outsourcing medical transcription to a professional service provider will make the task easy and provide 100% error-free medical documents.
Even if you visit a small clinic, it's quite rare that just a single doctor or healthcare provider will emphasize your case, and share critical patient data an important element to ensure the best care. Particularly if a case needs different specialists with expertise in various fields or disciplines, sharing data and collaboration is an indispensable role in the core of a medical services facility. That's when medical transcriptionists come to the rescue. Their records give crucial medical as well as treatment information between multiple practitioners to make communication concise and clear, ensuring everyone is on the same page. These crucial transcriptions help facilitate the information flow between one doctor and the next, guaranteeing the proper diagnosis, as well as treatment alternatives, are implemented – regardless of the size of the group.
Affordable Medical Transcription Services for Your Business
Known to be among the leading Medical Transcription Agencies, TridIndia has been offering HIPPA-compliant transcription services round the clock. At Tridindia, you can order human transcription online for growth. We have assembled a talented pool of medical transcriptionists with us, who are not just qualified enough but possess varied prodigious skills and knowledge about advanced medical terminology, medical style, communication skills, anatomy, and physiology.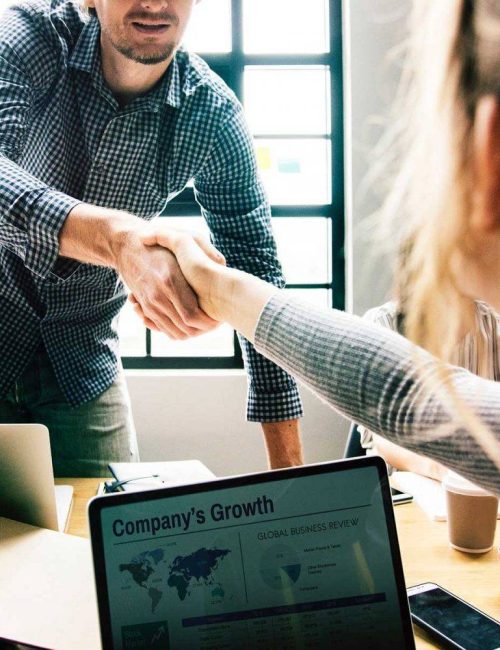 Need of Medical Transcription Services for Your Business Today
It was not long back when medical clinics and hospitals depended on printed charts to document the details of a patient's history. Presently with access to reliable language transcription in medical field, you have one of the quickest developing segments in the healthcare industry.
A Global Hit
Medical transcription is needed by healthcare people when they have to connect with doctors who belong to another nation.
Boost ROI
Avoid wasting time in documenting patient visits again. Give better documentation to patients with the help of medical transcription solutions and boost ROI.
Boost Sales
Medical transcription is a fundamental part of a physician's practice, which includes processing a physician's dictations into written documents.
Access to Global Market
Not every patient or his family member will succeed in listening and understanding the keynotes. Transcription improves the level of information accessibility.
Availing medical transcription solutions can enable you to enjoy a scope of exact benefits of transcription company. Instead of investing your time in using software, speak to Tridindia's medical transcription specialist and get your task done with efficiency and accuracy.
Types Of Medical Transcription We offer:
As we are committed to offering 99% accuracy and 100% HIPAA compliance, we offer popular types of transcription in a diverse range of areas or disciplines (such as the ones mentioned below). We understand how much importance 'quality' holds in the medical industry; one single mistake can completely ruin the entire report and put someone's life to risk.
Psychiatry/Psychology
Environmental Medicine
Medical Records Summary
Gastroenterology/
Gastrointestinal
Surgery/Surgery Notes
Pulmonology
Urology
Patient Charts
Rheumatology
Otolaryngology
Geriatrics
Rehabilitation Reports/ Medicine
Teleconferences
Nephrology
Bariatrics
Vascular Medicine
Plastic Surgery
Osteopathy
Forensic Medicine
Medical Documentation
Discharge Summary
Pain Management
Occupational Therapy
Andrology
Dermatology
Occupational Medicine
Operative reports
Progress Notes
Speech Therapy
Pediatric Neurology
Clinical Chemistry
Audiology
Skilled Nursing Facility
Infectious Disease
Radiology
Pediatric/Geriatric reports
Clinical Virology
Neonatology
Radiation Oncology
Pediatrics
Emergency Medicine
Family Medicine
Internal Medicine
Physical therapy
Obstetrics
Nuclear Medicine
Dentistry
Orthopedics
Acupuncture
History and Physical reports
Urgent Care
Optometry
Physiotherapy
EMR and EHR Reports
IME / Peer Reviews
Neurology
Hematology
Endocrinology
Pathology
Podiatry
Anesthesiology
Chiropractic
Ophthalmology
Allergy/ Immunology
Clinical Summary
Reproductive Medicine
SOAP notes
Emergency Room
Sports Medicine
Genetics
Preventive Medicine
Epidemiology
Ambulance
Oncology/Hematology
Cardiology
Gynecology
And Many More…
Being able to handle transcription assignments related to all these diverse disciplines is a testament in itself that we are experienced enough to fulfill all of your diverse and complex transcribing needs with great ease. In case you have additional requirements other than these, do let us know. Our team will get back to you with the best possible results in the fastest TAT.
We at Tridindia
Professional Medical Transcription to Keep Information Intact
If you are running a hospital or multi-specialty clinic, then you should know that nowadays medical transcription plays an indispensable role in the medical industry. It is useful to keep the patients' records streamlined and in a text format. To get this job done, hiring Tridindia is the ideal company to get a fruitful voice to text transcription in medical arena. Our team of native medical transcribers consistently produces highly accurate and expert-level clinical documentation with the fastest turnaround time.
Types of languages We Offer Medical Transcription in:
Medical transcriptions help you to expand your reach and give professional treatment to people from different corners of the world. We help you transcribe your medical documents into various languages as below:
Tamil Medical Transcription
Gujarati Medical Transcription
Telugu Medical Transcription
Kannada Medical Transcription
Punjabi Medical Transcription
Marathi Medical Transcription
Malayalam Medical Transcription
Bengali Medical Transcription
Urdu Medical Transcription
Oriya Medical Transcription
Haryanavi Medical Transcription
Bhojpuri Medical Transcription
Sanskrit Medical Transcription
Hindi Medical Transcription
English Medical Transcription
Japanese Medical Transcription
German Medical Transcription
Russian Medical Transcription
Spanish Medical Transcription
French Medical Transcription
Arabic Medical Transcription
Chinese Medical Transcription
Dutch Medical Transcription
Turkish Medical Transcription
And Many More…
Our team of professional transcribers makes sure that your transcription requirements are fulfilled with full accuracy and dedication. Plus, whenever you will connect to us, you will always get proper guidance that will help you
transcribe interview audio to text for growth
.
Benefits Of Outsourcing Medical Transcription Services To Us
 If you are looking for an experienced vendor, you are at the right place. Listed below are some of the major benefits that you may get access to by outsourcing the services like video or error free audio transcription in medical industry to us.
Data Privacy
The security of your medical data is of prime importance to us.
Culturally Relevant
Our medical transcribers ensure it is culturally relevant.
Quality Control Systems
The transcripts document undergoes three-tier quality check process to ensure accuracy.
Faster TAT
Although transcription consumes time, we complete work within fastest TAT.
Years Of Experience
Tridindia has good years of experience in delivering growth driven medical transcription.
Native Transcribers
We assign your project to the dedicated native transcribers, who transcribe well.
In simple words, we are the right resource of worthwhile business transcription for you, regardless of the complexity of your assignment. So, get ready to have instant access to high quality transcripts and keep well-formatted written records with you, for future use.
Get in touch
Don't hesitate to contact us for inquiries!
Tridindia has helped many healthcare centers in boosting their workflow efficiency with its outstanding medical transcription solution. If you want to know more or have a project for us, Contact us NOW!
Easy Project Consultation
Your Trusted
Medical
Transcription
Agency Online
Leading practices and hospitals across the world have been using medical transcription solutions from Tridindia as it boosts physician productivity. With an average specialist being capable of dictating three times faster than typing, great patient records can be made faster to not just save time, but also excuse greater levels of reimbursement and reduce insurance claims denials. We won't just assist you with well-managed patient medical records, but significantly lessen your clinical documentation burden too. Even, we can offer you quality youtube transcription for medical industry.
As a reputed medical transcription company, Tridindia strives to satisfy your every transcription need. Our team includes skilled people who are dedicated and strongly committed to delivering quality at an affordable rate.
100% HIPAA compliance
Zero error rates
Professional transcriptionists
Flexible dictation choices
Appropriate use of healthcare terminologies
Irrespective of the project size, we assure highly accurate results, keeping every guideline and client's needs in mind. The transcripts are not only transcribed and delivered to you; they also undergo different quality parameters that analyze the transcript in not only one, but different stages. Our team can also help you with high grade focus group transcription.
In short, Tridindia provides a complete suite of medical transcription that relieve you from uncompensated work that weighs profoundly on your day-to-day. With our services, we assure you as well as your staff will witness productivity growth, an increased count of patients, and a boost in the overall level of patient care.
Our Experts
Native Medical
Transcribers
Potential of Medical Transcribers
At Tridindia, the highly talented medical transcriptionist's work is more than that of just converting. It includes going through the transcripts, deleting what was dictated repeatedly and correcting grammatical errors in dictation, specifically for doctors with accents. Medical transcriptionists are considered fail-safe. It is common for them to flag documents that have omissions, medical errors, or conflicts. After proofreading, the final audio transcription or valuable video transcription is always provided promptly and is quite accurate, formatted as per the specification.
Medical transcription solutions from Tridindia allow physicians to:
– Attend more patients and complete work on time
– Decrease their EHR documentation burden
– Work with dictation using less cognitive effort
– Boost EHR usability as well as adoption through simplified dictation solutions
– Boost EHR/EMR content with exceptional medical transcripts
– Boost patient care, backed up insurance claims and reduce malpractice risk
Additional Flexibility
When you hire Tridindia to boost medical transcription efficiency, you'll acquire the benefits of HIPAA-compliant technology made with the medical field's challenges in mind. You can observe the major role of medical transcription, if worked with the right company.
Medical transcription solutions from Tridindia provide great value to physicians who want to streamline their complete clinical documentation process with zero burdens of hiring, training and handling an in-house transcriptionist.
Get in Touch
We are dedicated to
serve you all time
Understand the value of accurate documentation and focuses on delivering high-quality medical transcription solutions that will meet and surpass your expectations.
Why Choose Us
Choose Tridindia And Get High Volume of Dictated Information Transcribed
Since our foundation, we are working with a vision, to be honest and determined towards our services. Hence, quality and security compliance has been our forte. Here are some reasons why choosing us for satisfactory medical transcription for hospitals is the right decision.
Higher Quality & Accuracy Level
We assign your project to the team that is proficient in transcribing for a specific discipline as mentioned in the source file. The team will ensure highest level of accuracy.
Comprehensive Language Solutions
If you want the transcribed dictated information to be in another language, we have comprehensive language solutions for you. Our transcriptionists are native experts.
Certified
Transcription
We provide the certified transcription solutions to make sure the content should meet the HIPAA guidelines and are EMR and EHR friendly. We provide the best results and solutions.
Native Expert
Transcribers
We have a strong team of native medical transcribers who are well-versed with different disciplines of healthcare and have vast experience in the same industry.
Easy Project
Consultation
We understand the concerns of our client and thus, conduct project consultation to help resolve their issues from end-to-end. Our project manager guides you well.
Fastest Turnaround
Time
Delivering work in the stipulated time frame has always been our specialty. No matter how complex is your project and what is the size, we can do work with the fastest turnaround time.
Realfact
The Unbeatable Medical Transcription Master Since 2002
From bringing down the costs to making sure there is always someone to transcribe essential notes, our medical transcription company helps you boost productivity and upgrade the quality of care you offer to patients.
Native Expert Transcribers
Steps
Follow Simple Steps for Ordering Medical Transcription
Tridindia is flexible and capable of customizing our medical transcription solutions for your hospital, clinic, or private practice. If you are seeking expert transcription help, without a second thought, follow these steps to book our service now.
Contact us first
If you want to know more about our service, connect with us or mail us your project requirements.
Consult with Project Manager
You can even visit our office to meet our project manager for a project discussion in a better way.
Place Your Order
If you want our medical transcriber to transcribe your recordings, then order our service.
Get Delivery On Time
Once the audio is transcribed into a transcript and proofreading is done, your work will be delivered before the deadline.
FAQ
Frequently Asked Questions on Medical Transcription
TridIndia Providing Certified Medical Transcription Services in:
Ahmedabad NCR Bangalore Chandigarh Chennai Delhi Gurgaon Hyderabad Kolkata Lucknow Mumbai Noida Pune Ghaziabad Gurugram Surat Visakhapatnam Dubai Abu Dhabi Ajman Oman Uttar Pradesh Maharashtra Karnataka Tamil Nadu Telangana West Bengal Gujarat Madhya Pradesh Haryana Kerala Bihar Rajasthan Assam Odisha Punjab Andhra Pradesh Jammu and Kashmir Uttara khand Himachal Pradesh Jharkhand Goa Puducherry Manipur Chhattisgarh Meghalaya Andaman and Nicobar Islands United States Philippines United Kingdom Germany Canada China Australia Ukraine Nigeria Malaysia France Bangladesh United Arab Emirates Turkey Pakistan Indonesia Saudi Arabia Kenya Egypt Taiwan Russia Singapore Peru Italy Netherlands Spain Thailand South Africa Palestine Ireland Japan Vietnam Mexico Hong Kong Sri Lanka Nepal Finland Maldives Brazil Czech ia Iran Poland Switzerland South Korea Belgium Myanmar (Burma) Lebanon Uzbekistan Greece Kuwait Ghana Morocco Qatar Sweden Armenia Ethiopia Israel Kazakhstan Romania Tanzania Latvia Denmark Argentina Oman Venezuela Bulgaria Belarus Algeria Moldova Portugal El Salvador Jordan New Zealand Afghanistan Austria Bahrain Costa Rica Hungary Albania Azerbaijan Iraq Slovenia Somalia Tunisia Yemen Colombia Estonia Georgia Norway Serbia Brunei Chile Cameroon Honduras Croatia Jamaica Lithuania Mauritius Sudan Kosovo Bolivia Slovakia Senegal Uganda Bahamas Congo – Kinshasa Côte d'Ivoire Cape Verde Curaçao Ecuador Iceland Luxembourg Montenegro Macedonia (FYROM) Mongolia Malawi Panama Rwanda Syria Turkmenistan Zambia Angola Bosnia & Herzegovina Barbados Burkina Faso Bermuda Bhutan Central African Republic Congo – Brazzaville Cyprus Gabon Guernsey Gambia Guatemala Guam Haiti North Korea Liberia Lesotho Libya Malta Mozambique Sierra Leone Tajikistan Trinidad & Tobago Uruguay Samoa Zimbabwe UAE
Testimonial
With years of experience, we know what your industry needs for growth.
Through our industry knowledge and experience, we execute translation that will definitely profit your business.
"The best thing that I liked about TridIndia is their professionalism & promptness in delivering bulk projects within shorter time frame. Kudos to the team..!!"
"The best thing that I liked about TridIndia is their professionalism & promptness in delivering bulk projects within shorter time frame. Kudos to the team..!!"
"When you are in the technical industry, you know how difficult it is to communicate with your multilingual customers. But, TridIndia made this simple for us."